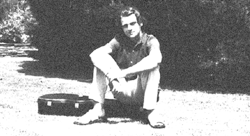 Branimir Krstic is a classical guitarist and composer known for his versatile, unique, and fiercely independent musicianship, which communicates with listeners from almost every corner of classical music. Born in Osijek, Croatia, he received his first formal music instruction at the local music school. After finishing high school, Branimir left for Germany to study classical guitar at the renowned "Hochschule für Musik" of Cologne. There, he obtained a summa cum laude degree and continued with postgraduate studies in both composition and guitar. The list of his former mentors includes guitarists Eliot Fisk, Ansgar Krause, and Charles Ramirez, as well as composers Mauricio Kagel (Branimir was his last student), Johannes Fritsch, and Sir Peter Maxwell Davies. Branimir's works have obtained numerous prizes and were performed across the U.S., UK, Germany, and Croatia by distinguished musicians, including the Ensemble Hebrides, Avenue Winds, and Andrew Haveron.
His music and performances were broadcast on radio and TV throughout Europe and in the USA. Branimir has obtained composition commissions and performance sponsorships from many art lovers and organizations, including Dr. Peter Acland of Birmingham, Sir Peter Maxwell Davies, The Hope Scott Trust, Rheinisches Musikfest, and The Gustav Holst Foundation.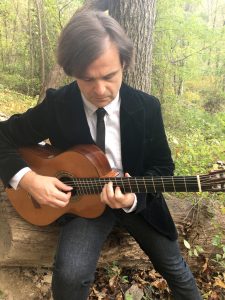 In 2004, Branimir released his album,"Sgt. Pepper For Classical Guitar", the first classical version of the greatest rock album, and proof that good rock can be more "classical" than a lot of "classical" music. The critically acclaimed album has provided an excellent foundation to establish a successful music publishing company, "Pineapple Music". The first three distinct volumes of his collected guitar works soon followed. On the next album, "Classical Guitar for Lovers", Branimir enjoyed being "a performer only". This album included some new Schumann transcriptions for guitar that quickly became very popular. The album "Fugue Revisited" from 2010 offered two representative major solos by Bach, along with a unique and original collection of Branimir's own Preludes and Fugues, which are reminiscent of a great tradition that peaked in the work of J.S. Bach. Opening a new frontier in Branimir's artistry, the album "guitARS subtilior" introduced the first renditions on a solo instrument of the obscure and marvelous 14th century music, recently rediscovered and branded as "ars subtilior". The album "Revel", displays not only a renewal of Branimir's compositional techniques, but also of his performing skills, boldly refreshed by the inclusion of flamenco artistry.  The most recent album, "Ensconced", is looking back, but not in anger, at two musical forms differently showcased on previous albums: Etudes and Variations.
Presently, Branimir is active as a composer, concert performer, and teacher in the Washington D.C. area, USA. He is an avid supporter of music education in elementary schools, something he sees as critical in building a healthy future for classical music.